Bio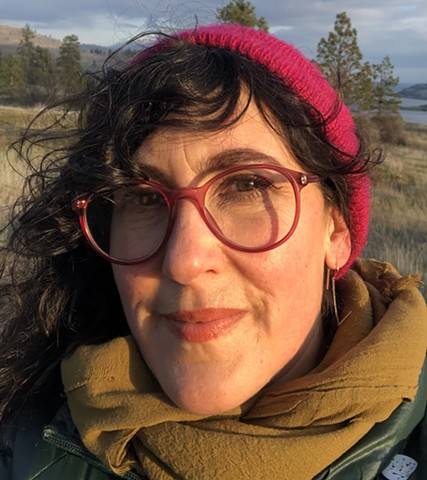 Tia Factor's paintings reference the aesthetic traditions of Romantic landscape painting, utilizing the syntax of idyllic and pastoral imagery. She combines that imagery with visual concepts derived from interviews she conducts with individuals, learning about their closely held attachments to places they've called home (especially in environments such as communes or gated communities), traveled to, visited in their dreams or continue to visit in their fantasies. The combination of these sets of images, the inner landscape and the outer, creates connotative complexity referencing such varying concepts as: Manifest Destiny; utopian ideals of paradise and beauty; the wildland-urban interface (WUI); luxury, leisure, excess, exclusivity; fantasy, dreams and pleasure.
Her analogous color schemes of warm hues are reminiscent of deserts and sunsets. They create visual harmony tinged with the foreboding of a burning Western landscape. This is an emotionally complex space to which Factor adds another layer of complexity, blurring the boundaries between figuration and abstraction, representational space, and the physical gestures of painting itself.



Tia Factor (born Sonoma County, CA; lives and works in Portland, Oregon) received her BFA from the California College of the Arts (CCA) and her MFA from the University of California at Berkeley. Her work has appeared in solo and group exhibitions from Oregon to Denmark, Chicago to Tasmania, and exhibited in such notable venues as the Yerba Buena Center for the Arts (SF), Sonoma Valley Museum of Art, Berkeley Art Museum, Richmond Art Center (CA), Oliver Art Center (CCA, Oakland), Southern Exposure (SF), Pacific Northwest College of Art, Mary Elizabeth Dee Shaw Gallery (UT), Torrance Art Museum (CA), The Center for Contemporary Arts (Santa Fe), the Schneider Museum at Southern Oregon University in Ashland and the Jordan Schnitzer Museum (JSMA) at PSU. Factor has been featured in art magazines and on-line publications including Buckman Journal, Bear Deluxe, Stretcher, Artweek, New American Paintings, NAU NUA (Spain), The Semi-Finalist and art ltd. She was a RACC Professional Development Grant recipient and an artist in resident through Arts Tasmania, the Vermont Studio Center and Sou'wester Arts and is a member of WAVE Contemporary, a collective of artists who meet regulary to engage in critique and discourse. Factor is an arts educator who has taught students of all levels and worked with a variety of institutions from the Pacific Northwest College of Art (PNCA),The School of Art + Design (PSU), Portland Community College, The Oxbow School, UC Berkeley's Art Practice Department and is director of a study abroad art course in Berlin in collaboration with Picture Berlin.